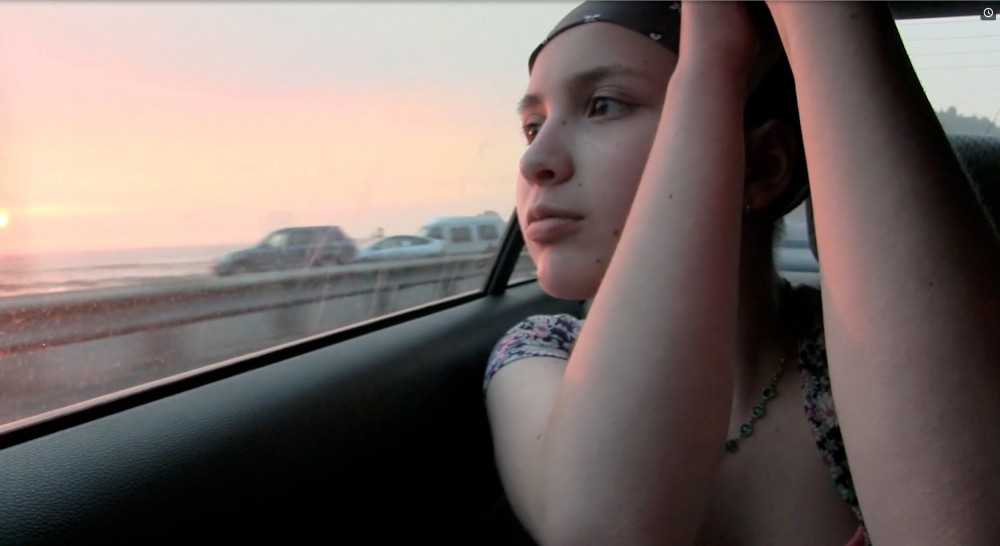 Queen of Everything You See is a remarkable and joyful story, told and filmed by fourteen-year-old Holly James over a one-year period in her small, northern California, coastal town. Though Holly began this project only days after being released from an eleven-month treatment of surgeries, radiation, and chemo for brain cancer, this film is not about cancer. It is about life. With humor and charm, Holly shows us how to see the importance of family, the value of close friendship, and to see the beauty that can be found – for herself and for all of us – in everyday moments.
For this project, co-director Alex Harris collaborated with filmmaker Joel Wanek with the idea of teaching young Holly James to use a video camera in order to document her own life and experiences in the year of her recovery from brain cancer. Over that next year, Holly emerged as a filmmaker with a delightfully original style and voice. Her reflections on her illness and on the making of this film become valuable insights not only for adolescents and their families facing cancer but also for others confronting difficult challenges in their lives.
With the guidance of renowned, neuro-oncologist Dr. Michael Prados, this film is intended to broaden our insight into the experiences of people living with brain cancer and will be used to support future research. 
** CREDITS**
Holly James: Director, cinematographer/DP
Saundra James: Cinematographer/DP
Joel Wanek: co-director, editor
Alex Harris, co-director, editor, producer
OFFICIAL SOUTHERN DOCUMENTARY FUND WEBSITE
Queen of Everything You See is a selection of the 33rd Annual Kassel Documentary Film and Video Festival
Queen of Everything You See is a selection of the 2017 Artemis Women in Action Film Festival
TO SEE MORE FILM STILLS: Click on the image on screen or move your curser to the bottom of the screen
** TO VIEW THE 18 MINUTE FILM CLICK HERE
TO VIEW THE TRAILER: CLICK THE LINK BELOW