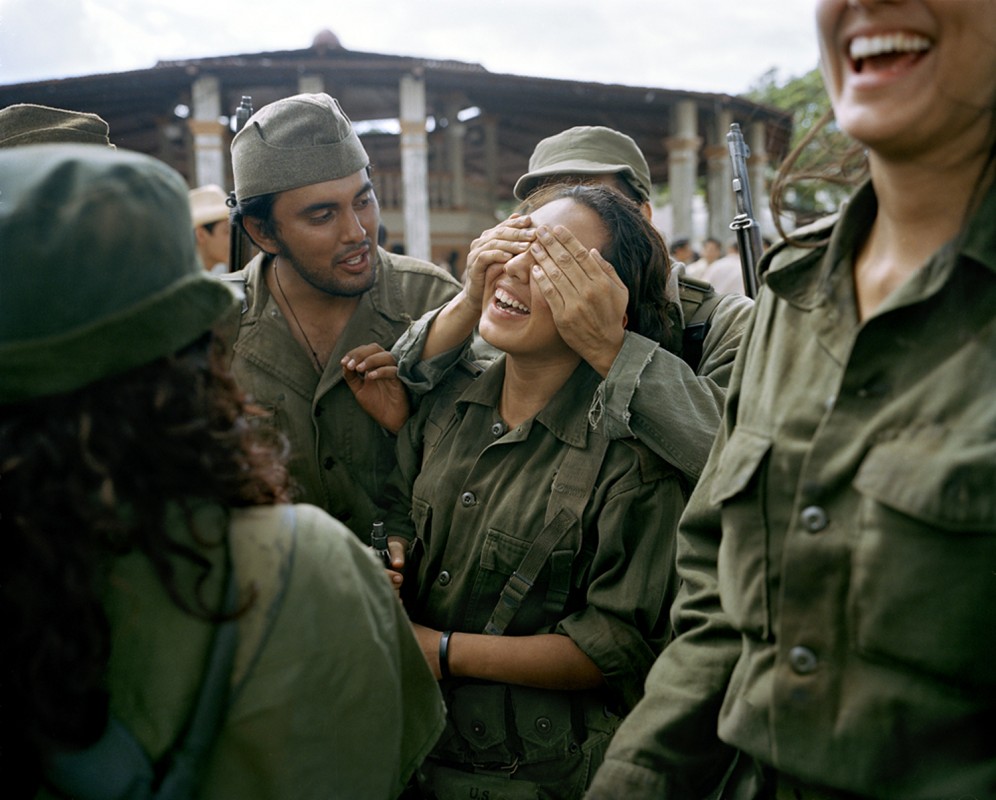 Extras from Campeche, Mexico who play rebel soldiers fighting with Che Guevara in the battle of Santa Clara. At the end of each day on set, extras gathered to turn in their rifles and other gear – and to relax.
In the fall of 2007, I was invited by Laura Bickford, the producer of Steven Soderbergh's CHE, to photograph on the movie set of Che part one. Laura admired my photographs from my book, The Idea of Cuba and she was curious to see how I would respond to the late 1950s Cuba being recreated by Soderbergh for the film. I asked photographer Bill Bamberger to assist me with this shoot and we arrived on set in Campeche, Mexico that November. At the time, Soderbergh was recreating and filming the last battle of the Cuban revolution – the December 1958 battle of Santa Clara – in which Che's forces defeat Batista's soldiers and set the stage for the rebel's victorious trip to Havana. Within hours of being on set, with so many things happening at once - on and off the set - I asked Bill Bamberger to stop handing me cameras and instead to take pictures as well. Together Bill and I photographed Che's triumphant entry into Santa Clara, some of the street fighting, the defeat of Batista's forces, Benecio Del Toro as Che and some of the other key actors. We were interested in documenting the making of the movie, but also in making pictures as if we were witnessing reality, as if the future of Cuba was actually on the line that day.
We also photographed the rank and file rebel soldiers and the extras from Campeche playing the ordinary townspeople of Santa Clara. For me these portraits are interesting in and of themselves, quite different than the movie set photos I'd seen before. I wanted to compare these portraits of townspeople playing ordinary Cubans at this earliest triumphant moment in the Cuban revolution to the photographs of ordinary Cubans I had made on the island for The Idea of Cuba during the decidedly less hopeful last days of Fidel's rule.