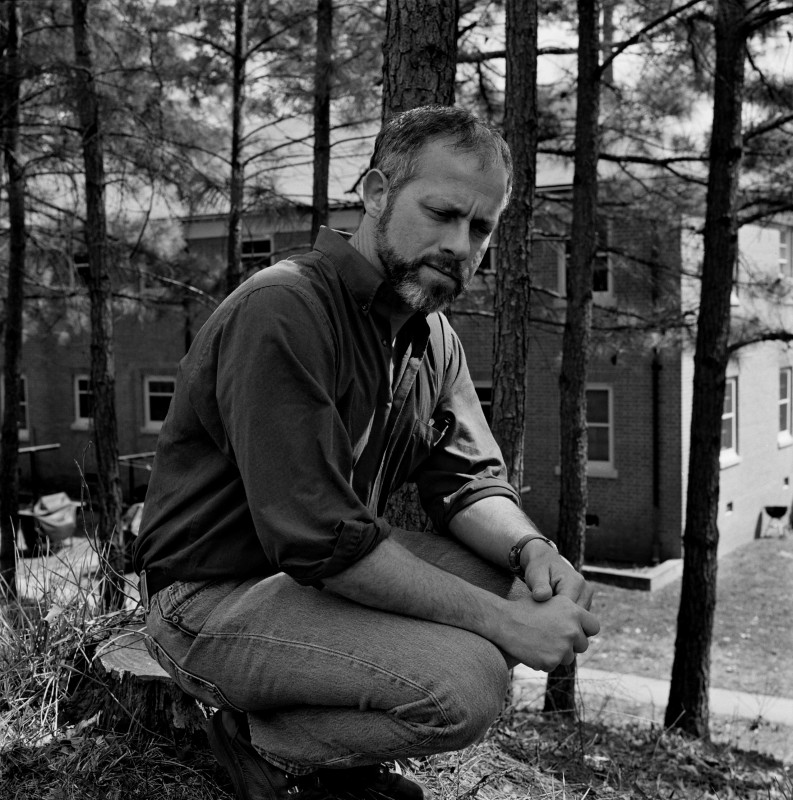 I made most of the portraits in this series in the vicinity of Raleigh, Durham, and Chapel Hill, North Carolina in 1994. I was interested in the way people were using personal ads to look for love and companionship. I began to pay attention to the personals ads in local newspapers where individuals submitted a brief statement, often with only a few lines to describe themselves, who, and what they were looking for. For this project, I contacted people who had written ads that particularly interested me and asked to make a portrait. I wanted to see how my portraits would resonate with their own descriptions. By 1999, when I turned to this project again, personal ads were beginning to move from newspapers to the internet.
Geodad says: "smart women really turn me on"
I'm 5'9", 175#, brown hair, blue eyes, look (and feel) younger than my age :-) I'm a grad student at Carolina, will graduate this summer with a PhD in geology. I like to work out, go to movies and plays, walk in the woods, cook spicy food and sample interesting wines. I'm also a single dad, have a 16 yr old son who lives with me. I've been seperated (soon divorced) for ~1 yr and have been almost entirely celibate during that time (being a single parent has that effect).
I'm enjoying the independence of being single again, and accept the extended periods of abstinence as part of the package. I'm a highly sexual person and when I'm with a partner the sex can be quite intense. Unfortunately, working on my dissertation and trying to be a responsible single parent to a teenager leaves me with virtually no opportunities for sexual fulfillment. Besides, as a grad student, I'm poor as a church mouse right now.
I'm interested in a woman who's mature, experienced and articulate, likes her body and looks good on the beach, and shares my interest in cultivating the sexual part of her personality. If you live too far away, I'd enjoy simply conversing about sex with you, just to remind me that that aspect of my life hasn't completely disappeared. Cybersex is fine, but conversation about getting it on would be equally great. Example: I think one of the sexiest things I've ever read is Andrew Marvell's "To His Coy Mistress". Can you relate? If so, then write me, quick!
What really turns me on: unusual locations for sex, extended foreplay, leather clothing Encounters I am open to: visiting a nude/topless beach, costumes/disguises, using sex toys. What I am looking for in a partner: imagination, high sex drive, a sense of humor Interest profile: I am looking for someone who is not into sex with a couple.