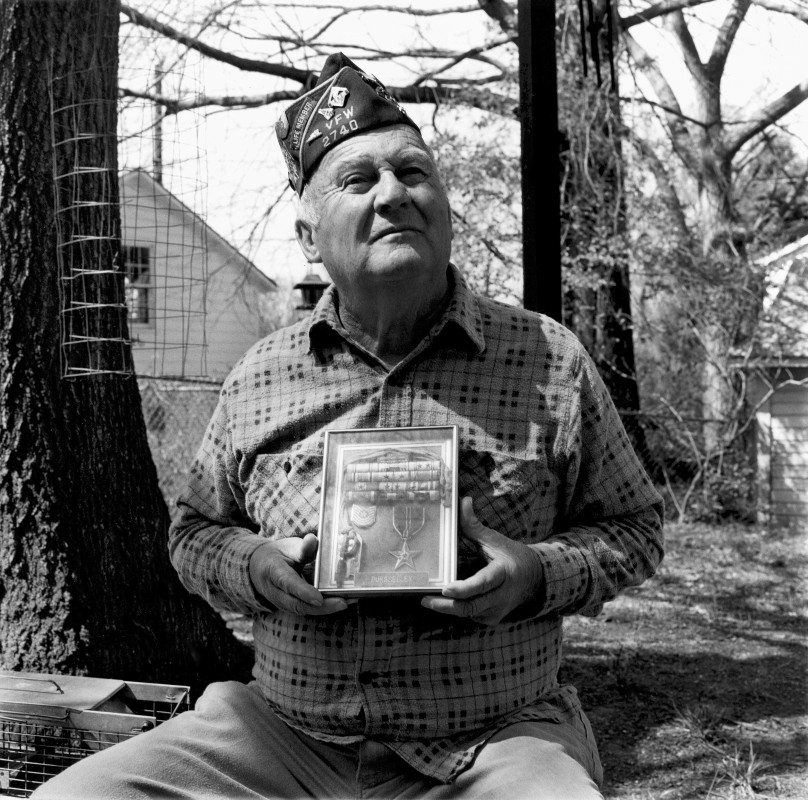 In 1990 and 1992 I made this series of portraits of individuals more than seventy years old and living independently in and around Durham, North Carolina. The attached texts were written by Nicholas Sholley from interviews he conducted with each person. My portraits were published in 1997 by W. W. Norton in Old and On Their Own with additional photographs by Thomas Roma of elderly in Brooklyn, New York, and text by Robert Coles.
---
Glenn Pursselley was born in Douglas, Kansas in 1916, the fifth of seven children. Glenn's father worked on farms and in oil fields. In his early teens, Glenn began to work alongside his father. In 1939, tired of working in the fields for a dollar a day and ready for a "real job," Glenn went to Wichita to enlist in the army. Within half a year, as a private first class/first specialist, he had tripled his starting pay to sixty-six dollars a month, higher pay than a buck sergeant received. In 1940, Glenn married his high school sweetheart, Millie Allene. After going to Albuquerque, New Mexico that same year to help open Kirkland Airbase, Glenn went overseas in October 1941 to Clark Field in Manila. Millie was then pregnant with their first child.
The Japanese bombed Clark Field in the afternoon of December 7th, 1941, hours after the Pearl Harbor attack. When waking up that morning to early radio reports, Glenn thought at first that the report of the raid was only a radio show.
Weeks after the start of the war (Clark Field was evacuated on Christmas Eve), Glenn was captured by the Japanese in Bataan and forced to march when still suffering from a bout of malaria. Thus began Glenn's forty-one month interment. At the beginning, Glenn worked burial detail. One day he and a team of prisoners buried sixty-two Americans in two ditches, "stacking them like cordwood." The daily death toll decreased markedly when the prisoners were asked to clear and cultivate a truck farm of six hundred and forty acres in the Cabatuan prison camp. Moved to Hirohata in October of 1943, Glenn worked in a steel mill until the day of the Japanese surrender in September, 1945.
After returning to the United States by ship, Glenn had six months of leave, and saw his three and a half year old daughter for the first time. He re-enlisted and worked for seven years in the ROTC programs at the University of Kansas and Kansas State, where he was promoted to master sergeant. In Kansas, Millie gave birth to two more daughters. In 1960, Glenn went to France with his family to serve for three years. From 1963 to 1969, he served three separate year-long tours of duty in Vietnam, the first as an advisor, the last two as non-commissioned officer in charge (N.C.O.I.C.) of supply exchange at a military base.
Following his retirement from the Air Force in 1969, Glenn worked in a retail outlet (W.T. Grant's) for four years, then went to Durham Technical Community College to earn an associate's degree in business and another in police science. After serving as a security guard at the same school for a few years, he began volunteering at the VA hospital in Durham, working at the information desk. After twelve years of service, he has earned his five thousand-hour pin.
Glenn has also belonged to the American Ex-Prisoners of War (AXPOW) and the Veterans of Foreign Wars (VFW) for over twenty years. He spent 2 years as Commander of VFW post 2740 and is now finishing up his fourth year as Commander of AXPOW, Tarheel Chapter No. 1, Fuquay Varina.
Glenn is photographed in his backyard. (written in 1992)