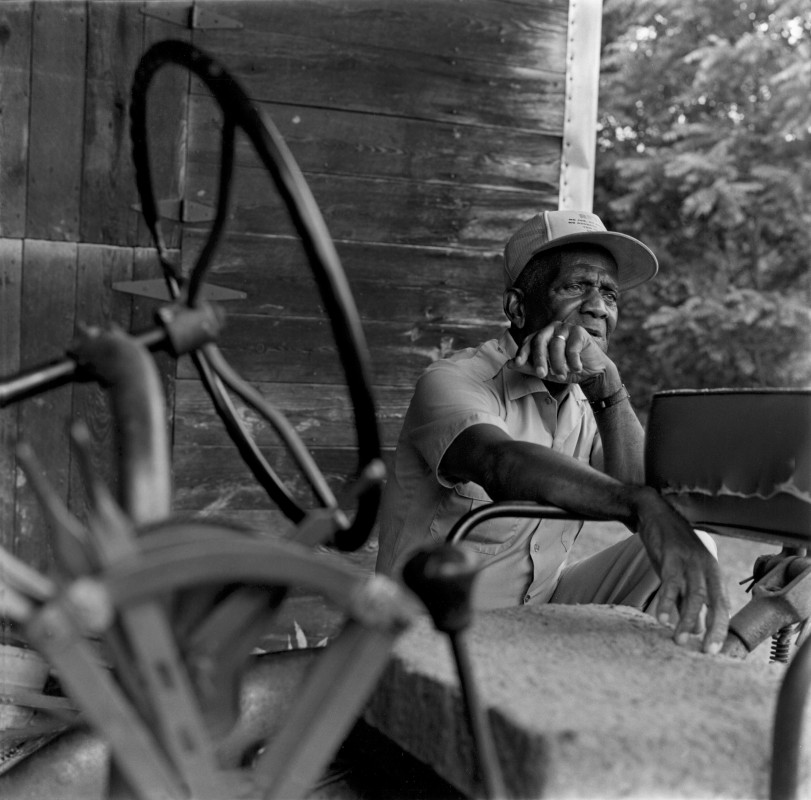 In 1990 and 1992 I made this series of portraits of individuals more than seventy years old and living independently in and around Durham, North Carolina. The attached texts were written by Nicholas Sholley from interviews he conducted with each person. My portraits were published in 1997 by W. W. Norton in Old and On Their Own with additional photographs by Thomas Roma of elderly in Brooklyn, New York, and text by Robert Coles.
---
Doctor Ralph Beasley was born in 1908, the seventh son of fourteen children, named for the doctor that helped his mother through childbirth in Prospect Hill, North Carolina. Growing up, he went to school only from November through January, missing the other three months of the school year to work on farms. ("At six and seven, I was doing the amount of work grown people do now.") When Doctor reached the age of thirteen, his father hired him out as a farmworker to white families eight months of the year. His father kept all of Doctor's earnings until he reached eighteen, when Doctor was given a small portion of what he was making. At twenty-one, Doctor was on his own, keeping what he earned, and earning what he kept. He continued to work on others' farms, mostly for whites.
At twenty-seven, Doctor married Pearl Lovenia Cole. They adopted a son, then had a son and a daughter of their own. In 1942, Doctor bought a pair of mules and started sharecropping, growing tobacco and corn. He rented land until he was fifty-five, then went to the Farmers' Security Administration (Now the Farmers' Home Administration or F.H.A.) to ask for a loan to purchase land. Of the five farmers applying for loans that day, he was the only one approved. He bought one hundred and twenty acres of land in Hurdle Mills, twelve miles outside of Hillsborough.
Soon after acquiring his own land, Doctor sold his mules for a tractor. In 1967, he started working at a nearby tobacco warehouse on sale days, grading leaf, greeting customers, delivering payments. He continued farming tobacco up until 1975. He sold timber to pay off the remainder of his loan. Fifteen years ago, he sold some of his land to pay for a new, one-story brick house to replace his weather-weary two-story wooden house that had been built onto a tobacco barn.
At this time, Doctor tends a small garden, goes to the warehouse on sale days from July to November for two hours, and attends lunches at the local senior citizens' club.
In this photograph, Doctor stands by the tractor he has used for many years.