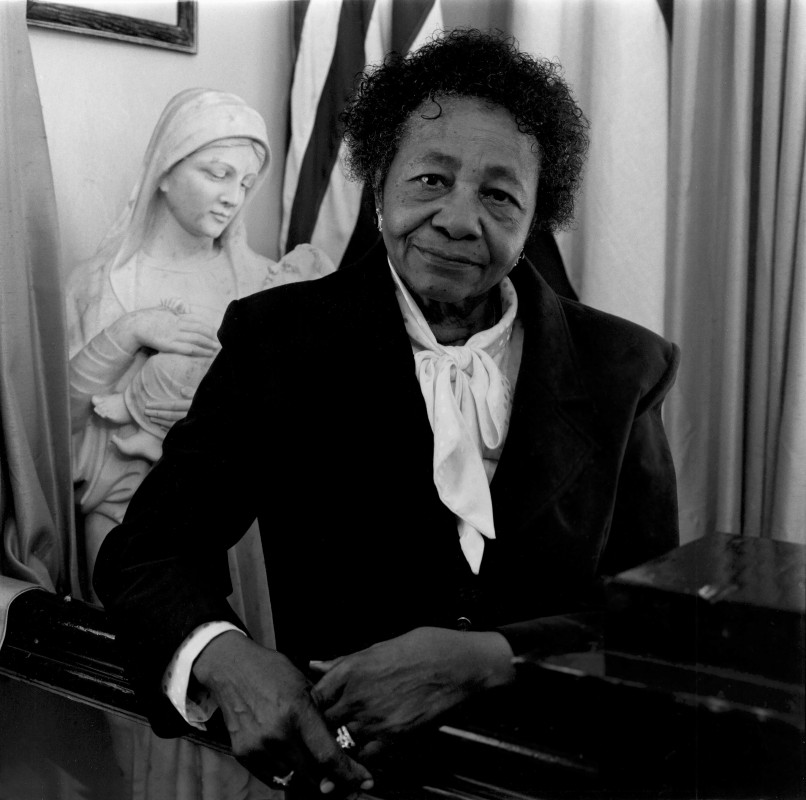 In 1990 and 1992 I made this series of portraits of individuals more than seventy years old and living independently in and around Durham, North Carolina. The attached texts were written by Nicholas Sholley from interviews he conducted with each person. My portraits were published in 1997 by W. W. Norton in Old and On Their Own with additional photographs by Thomas Roma of elderly in Brooklyn, New York, and text by Robert Coles.
---
Augusta Brimage Turner was born in Cove City, North Carolina in 1915. She was one of fifteen children in a family of sharecroppers and was raised by her grandparents in Mount Olive. As a child, Augusta worked long hours in cotton and corn fields. At twenty-one, she boarded a bus to Raleigh where she took an ironing job which included room and board. In Raleigh, Augusta completed the last two years of high school, graduating in 1938. She married her high school sweetheart, Frank Turner, in 1939. They moved to New York City where he ran deliveries for a drug store and she worked as a chambermaid and cook.
While in New York, Augusta and Frank adopted four of their five children. After visiting her family in North Carolina in 1960, Augusta returned to Raleigh with the children, and Frank followed later.
In Raleigh, Augusta worked as a vocational rehabilitation counselor at Umstead and Dorothea Dix Hospitals, and as public relations director at St. Augustine's College. She was the organizer of several group homes in Raleigh and Durham, and was the director of the Walnut Terrace Family Education Center. She has been active in her church as Vice President of Wilson Temple Methodist Women and as a member of the N.C. Conference United Methodist Women's Nominating Committee. Meanwhile, Frank has served as councilman-at-large on the Raleigh City Council.
In 1990, Augusta was nominated the North Carolina Mother of the Year by the American Mothers. She became the area coordinator of this group for six states.
Augusta is photographed in the front hall a women's shelter she founded in Raleigh. (written in 1992)