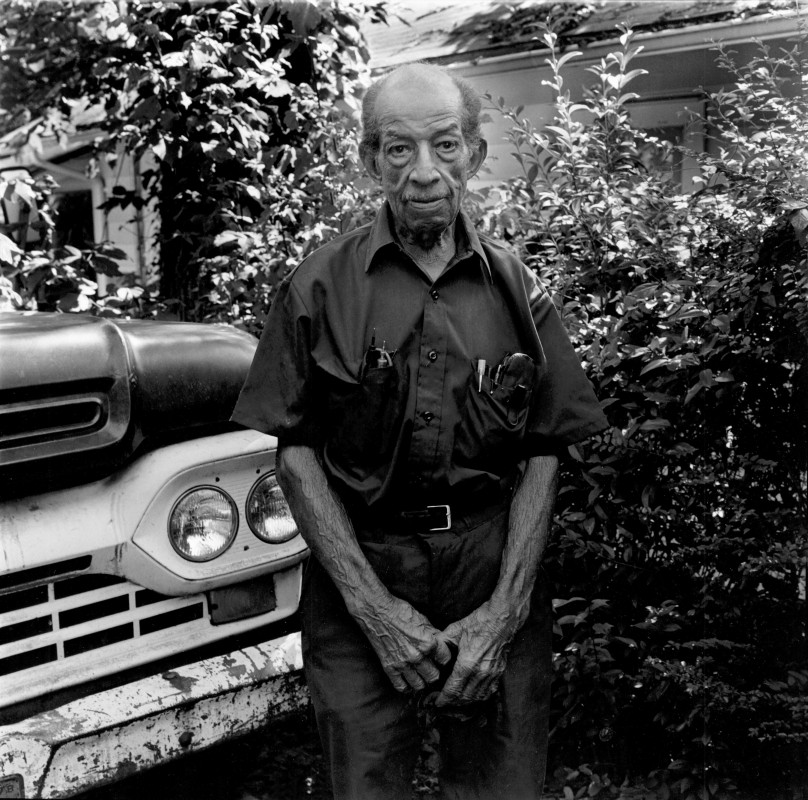 In 1990 and 1992 I made this series of portraits of individuals more than seventy years old and living independently in and around Durham, North Carolina. The attached texts were written by Nicholas Sholley from interviews he conducted with each person. My portraits were published in 1997 by W. W. Norton in Old and On Their Own with additional photographs by Thomas Roma of elderly in Brooklyn, New York, and text by Robert Coles.
---
Edward Nell (E.N.) Toole was born in 1898 in Rock Hill, South Carolina, the fourth of 9 children. His father was a barber, who later in his life owned a string of barber shops. E.N. was interested in electricity and mechanics as a boy. He worked on cars and invented pumps to irrigate farmland his father owned. He went to high school in Rock Hill, then left to go to Coyne Electrical School in Chicago, Illinois. E.N. studied there for four years, returning to Rock Hill to work in the summers. After ten years working as an electrician for a contractor in Rock Hill, and marrying Nellie Wallace in 1924, E.N. went to Florida to work for a year, then drove his Model T Ford to Durham, NC in 1926.
E.N. decided to settle in Durham with his family and bought a house on Pekoe Street, at the time on the outskirts of Durham. He started his own electrician's shop, wiring houses and businesses, working on electrical motors and generators, charging and conditioning batteries for the three electric streetcars. He was one of a handful of electricians contracted out in Durham County. (He holds license number 199 in North Carolina, given out in sequence.) Today there are over five hundred electrical contractors in Durham alone.
E.N. and Nellie had two daughters and two sons; the younger son still works with his father in the electrical business, now E.N. Toole and Son, located off Route 70 in Durham. Nellie passed away in 1982.
E.N. still goes to work every day. He drives his 1960 Ford truck to jobs (over three hundred thousand miles on it), repairs electric motors, refrigerators, takes consultation calls. Parts he doesn't have, he can machine with equipment in his shop.
E.N. still lives on Pekoe street in Durham. He is photographed at home, between jobs, standing near his old Ford. (written in 1992)