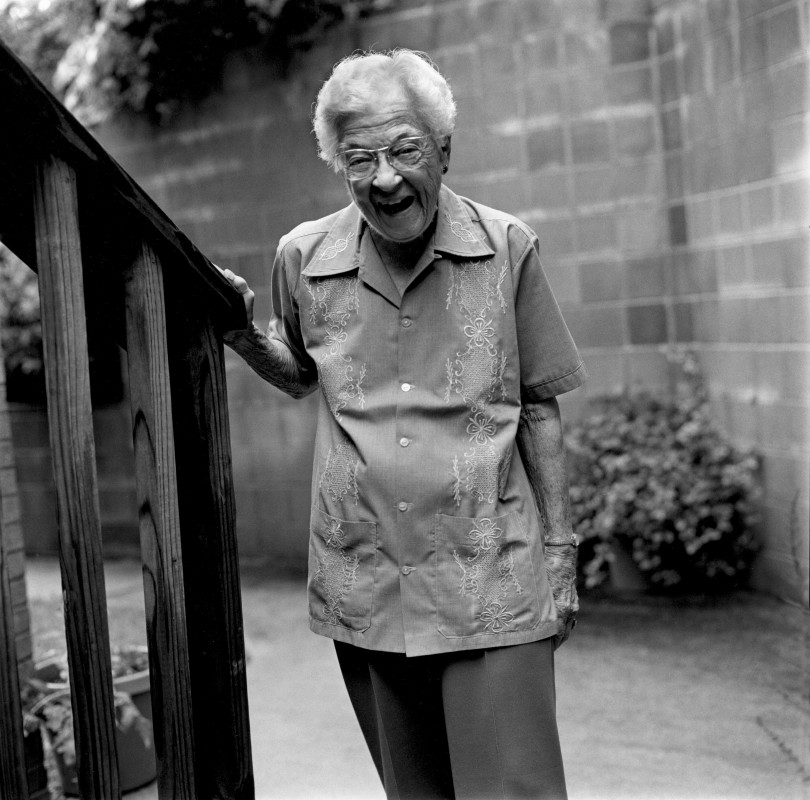 In 1990 and 1992 I made this series of portraits of individuals more than seventy years old and living independently in and around Durham, North Carolina. The attached texts were written by Nicholas Sholley from interviews he conducted with each person. My portraits were published in 1997 by W. W. Norton in Old and On Their Own with additional photographs by Thomas Roma of elderly in Brooklyn, New York, and text by Robert Coles.
---
Martha Branscombe was born in Union Springs, Alabama in 1906. Her father owned several farms and ran a general store to supply local farmers. He was also an avid horseman and sat Martha on the horse with him before she could walk. After graduating from high school, she went to Florida State, then a women's university and one of only two colleges in Florida. During her latter two years in college, she studied constitutional and international law, and her ambition was to go into the Foreign Service. She worked in Tallahassee for a year to save money for graduate school, then went to Radcliffe College where she studied for a year and a half before her money ran out. The depression had wiped out her father's wealth, so he could not help her with tuition.
Intending to return to Radcliffe when she had enough money, Martha went back to Alabama as assistant to the Speaker of the House in the state legislature. In this capacity, she helped to pass legislation to care for children outside of the poorhouse. At the time, President Roosevelt had started the Federal Emergency Relief Administration, and Martha assisted in setting up state and county programs in Alabama. This was her first experience with human beings living in truly desperate circumstances.
The Tennessee Valley Authority came to scout in Alabama, and hired Martha on as a consultant on family removal. She worked with the T.V.A. until 1938 when she received a fellowship to study social work. She chose to go to the University of Chicago. She had enough money for one quarter (three months), but was offered a job assisting the dean of the program. Upon completing her second quarter, she resigned her position with the T.V.A. and completed her doctorate in four years.
The United States was heavily involved in World War Two when Martha graduated, and she was hired on by the Chief of the Children's Bureau who needed help with post-war relief planning. Loaned "like a negotiable note," she went to work for other agencies as well. Martha took a team of four specialists to the Department of State to form the United Nations Relief and Rehabilitation Administration (U.N.R.R.A) in 1944. She was then asked to head up the Child Welfare Organization and had to set up U.N.R.R.A. offices in London first, then across Europe country by country for the last two years of the war. President Truman had opened the United States to refugees from Europe, and among the millions of displaced people there were thousands of unaccompanied children. With the help of other voluntary teams, U.N.R.R.A. helped to place these children in American homes.
At the end of the war, Martha went to work for the Children's Bureau again, and completed several assignments for the Department of State to Egypt and India. While she was in India in 1951, she was approached by the Secretary General of the U.N. to be Secretary of Economic and Social Affairs. During the next fifteen years, Martha travelled often to regional U.N. offices.
Under President Johnson, she helped set up the Head Start program to give underprivileged children an educational boost. During the Vietnam War, Martha worked with the Agency of International Development to assist displaced children in South Vietnam. After commuting regularly between Vietnam and Cambodia and Washington, D.C. for five years, she retired in 1972.
After leaving the United Nations in the rank of colonel, she came to Chapel Hill to live with her good friend Adelaide Walters, whom she first met as a student at Radcliffe. Adelaide had served as the first woman elected to the City Council in Chapel Hill. She was a leader in the community, getting many public housing developments underway.
In 1981 on the way to the airport, Martha lost control of her car and crashed. Adelaide Walters and another friend were killed; Martha broke every major bone in her body except those in her left arm. After recuperating for more than a year, she continued work on the completion of a housing project for the elderly and disabled, a project that had been Adelaide's brainchild. Martha is currently President of the Board of the Adelaide Walters Apartments. She is also an active member of the League of Women Voters and is on the Personnel Committee and the Advisory Council of Planned Parenthood. With three others, she organized Planned Parenthood in Orange County. She was selected as a North Carolina Outstanding Volunteer in 1992.
Martha is photographed standing outside the apartments named for Adelaide Walters. (written in 1992)