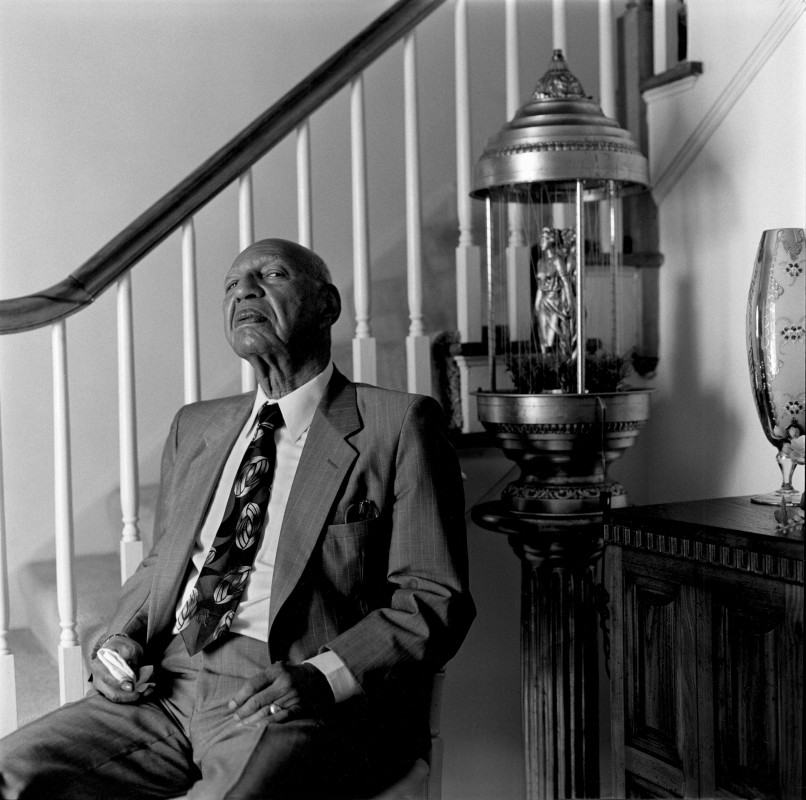 In 1990 and 1992 I made this series of portraits of individuals more than seventy years old and living independently in and around Durham, North Carolina. The attached texts were written by Nicholas Sholley from interviews he conducted with each person. My portraits were published in 1997 by W. W. Norton in Old and On Their Own with additional photographs by Thomas Roma of elderly in Brooklyn, New York, and text by Robert Coles.
---
Born in Atlanta, Georgia in 1910, John "Shag" Stewart knew from an early age that he wanted to be a businessman. While in high school, Shag and his older brother started a cleaning business to pay for their schooling. On a football scholarship (that only paid for meals during the season), Shag graduated from Atlanta University and Morehouse College intending to be a certified public accountant. However, in the intervening two years before taking his certification exam, Shag took a job paying ten dollars a week with North Carolina Mutual Life Insurance Company. Because of his strong performance as an insurance salesman in Augusta, Georgia, Shag won a trip to Durham, North Carolina. With encouragement from Richard L. McDougald, an officer of N.C. Mutual, Shag settled in Durham.
In Durham Shag also met the woman he would marry in 1936. Otelia was McDougald's secretary. They had two daughters and a son.
Shag helped to organize the Durham Committee on the Affairs of Black People. Later he chaired the committee until 1957 when he was elected to the Durham City Council. He stayed on the council until 1973 and served as mayor pro tem from 1971 to 1973.
Shag was director of Durham Business and Professional Chain, Durham Chamber of Commerce, the Durham Merchants Association, Duke Power, Mechanics and Farmers Bank, and N.C. Mutual Life Insurance Co.
Shag remained a director on the board at N.C. Mutual Life even while working for Mutual Savings and Loan Association. He advanced to president of the Mutual Savings and Loan Association, a position from which he retired in 1978. That same year, he was convicted of conspiracy and served 6 months in prison in Lexington, Kentucky, where he taught courses in business to inmates. He later received a presidential pardon.
Shag has been secretary to the Durham County Health Care Development Corporation and chairman of the Lincoln Community Health Center Building Fund, helping to raise $500,000 for the construction of the center. He has honorary degrees from Shaw University and NCCU.
Otelia died in 1991.
Shag now thinks of himself as being in the grandstands, no longer on the playing field.
He is photographed in the front hall of his home. (written in 1992)