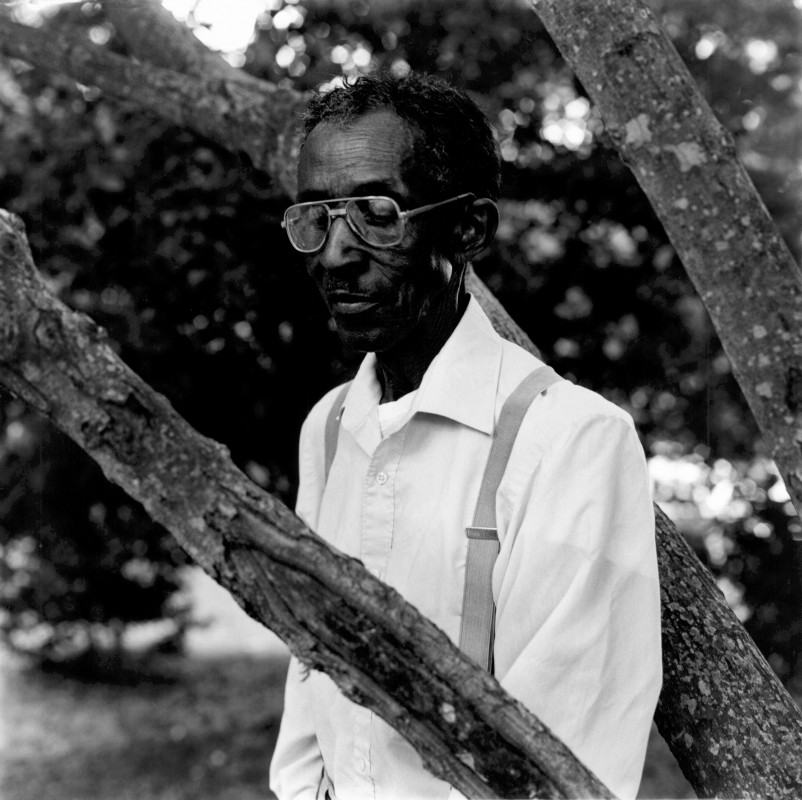 In 1990 and 1992 I made this series of portraits of individuals more than seventy years old and living independently in and around Durham, North Carolina. The attached texts were written by Nicholas Sholley from interviews he conducted with each person. My portraits were published in 1997 by W. W. Norton in Old and On Their Own with additional photographs by Thomas Roma of elderly in Brooklyn, New York, and text by Robert Coles.
---
Lorenza Beasley was born in 1916, the thirteenth of fourteen children. He is one of four children still surviving of the fourteen. Like his brother, Doctor, before him, Lorenza was twenty-one when he was allowed to keep what he earned. He married his childhood sweetheart, Beulah Cearnal, in December of that same year, 1937. They had five children. Their two daughters went on to college and earned master's degrees.
Lorenza sharecropped tobacco for almost thirty years after his marriage. During that time he also sang baritone with the Sunnyside Four Quartet, five years touring from church to church. In 1945, he joined the navy and was on a ship in the Pacific when the war ended. He came back to farming in 1946 but did not return to the Sunnyside Four Quartet. Since that time, he has continued to sing in the church choir and has been a very active member of the Union Grove Baptist Church.
After he retired from farming in 1966 because of severe arthritis in his hands (from the dew on the tobacco, his wife insists), he worked as a custodian for UNC, Chapel Hill until 1975. In 1971, he and his wife moved to their current home in Cedar Grove, North Carolina, a one-story brick house on Sawmill Road.
Since 1943, Lorenza has helped Doctor organize and direct the Beasley Prayer Band, meeting every Sunday evening, moving from house to house, often with as many as six preachers in tow. Traveling as far as an hour away from Cedar Grove, their group sings and prays with many small religious gatherings.
Lorenza is photographed under a tree in his front yard minutes before a huge summer thunderstorm drenched the area. (written in 1992)