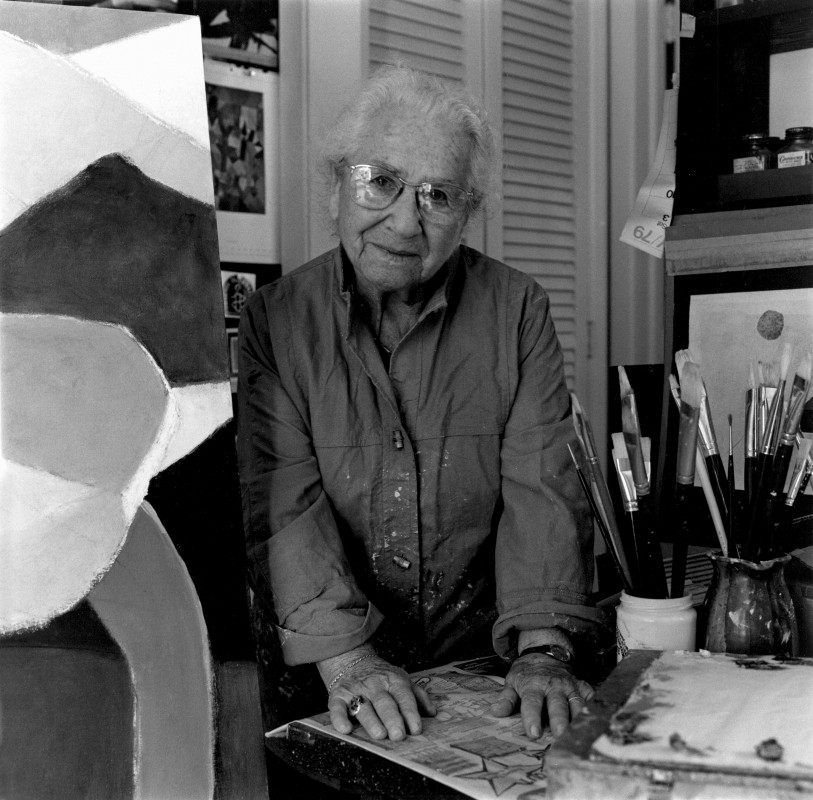 In 1990 and 1992 I made this series of portraits of individuals more than seventy years old and living independently in and around Durham, North Carolina. The attached texts were written by Nicholas Sholley from interviews he conducted with each person. My portraits were published in 1997 by W. W. Norton in Old and On Their Own with additional photographs by Thomas Roma of elderly in Brooklyn, New York, and text by Robert Coles.
---
The first of two daughters, Edith Caspary London was born in 1904 in Berlin, Germany. Her father owned and operated an umbrella factory, and her mother was a housewife. Growing up during Berlin's cultural ascendancy, Edith enjoyed going to art museums regularly with her parents. For years she and her parents also attended plays and dramatic readings. While she was in high school, Edith took an avid interest in dramatic reading, hoping some day to read professionally. At the time, such readers were held in high esteem. Many well-known actors and actresses worked as readers. Edith also met her future husband, Frank London, while she was in high school. They married in 1929, and Edith began her study of art and art history at the University of Berlin.
After taking a studio course and a sketching course, Edith was advised by one of her teachers to study to be an artist, not an art historian. Very shortly after this, she joined an association of women artists in Berlin. Her education was interrupted once for eight months in 1932 when she and her husband, by then a respected theoretical physicist, travelled to Rome, where he was invited to speak at conference.
Shortly after they returned to Berlin in 1933, Hitler came to power; on that same day Frank resigned his professorship at the University of Berlin. Fortunately, Oxford gave him a three-year fellowship to come and study, so he and Edith left the worsening situation in Germany to move to England.
In Oxford, Edith did work on her own, continuing to paint and sketch. They moved to Paris in 1936 after Frank was offered a permanent position at the University at Sorbonne. In Paris, Edith searched for a teacher, a mentor, roaming from gallery to museum. Over time, she found two significant mentors: first Marcel Gromaire and then Andre Lhote. Edith worked steadily in their studios. The three-year period in Paris was an influential time for Edith as an artist.
Early in 1939, when the Germans were on the verge of overrunning Paris, Paul Gross arrived in the city from Duke University to offer professorships to some of the science faculty at Sorbonne. After consulting with Edith, Frank accepted Duke's offer. They moved immediately to Durham, North Carolina.
In Durham, Edith gave birth to a son and a daughter. She painted and collected art books, which she studied frequently. In 1953, her husband was selected to be among the first James B. Duke professors. Shortly after celebrating their silver wedding anniversary, Frank died of heart failure in 1954 at the age of fifty-four.
After her husband's death, Edith took a job as the librarian for the slide collection in the art department at Duke. She continued to paint in her spare time, and her work grew more and more abstract during the 1950's. She retired as a librarian in 1969 and started to paint full-time once again.
Today she continues to paint and create mixed media collage. Her work is shown regularly at the Somerhill Gallery in Chapel Hill and in the Marita Gilliam Gallery in Raleigh. In the spring of 1992, there was a retrospective of her work at the Durham Arts Council. In this photograph, Edith stands in her studio at home. (written in 1992)