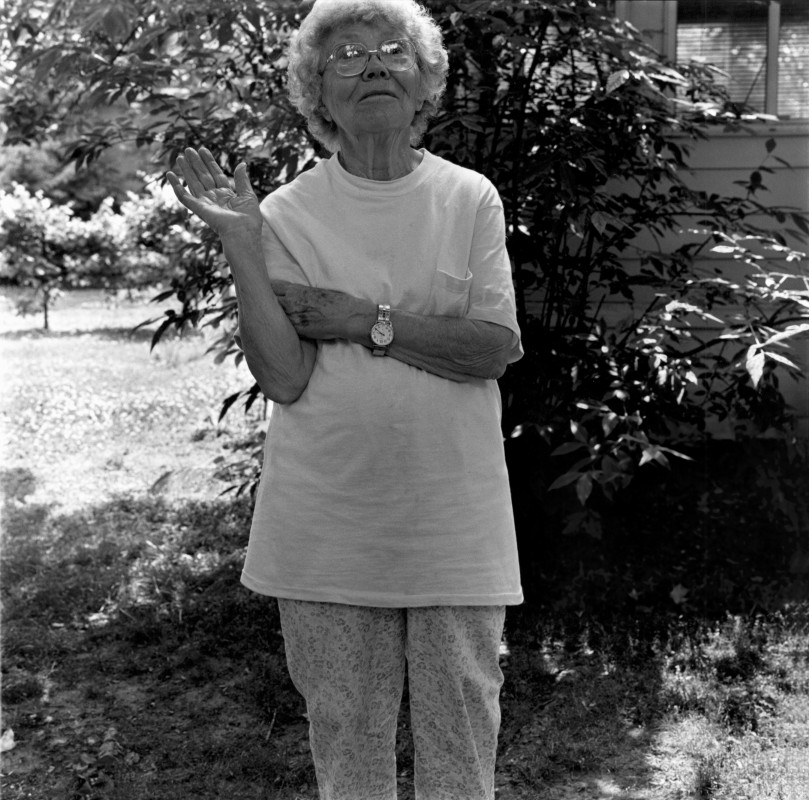 In 1990 and 1992 I made this series of portraits of individuals more than seventy years old and living independently in and around Durham, North Carolina. The attached texts were written by Nicholas Sholley from interviews he conducted with each person. My portraits were published in 1997 by W. W. Norton in Old and On Their Own with additional photographs by Thomas Roma of elderly in Brooklyn, New York, and text by Robert Coles.
---
Charlotte Garth Adams was born in 1902 in New Bern, North Carolina, the youngest of three children and the only daughter. Her father was a Presbyterian minister, and her mother, a housewife. After moving to Hickory, North Carolina (where her father went to recover from malaria), they settled in Charlotte, and Charlotte began school there.
In the early 1920's, while an undergraduate at the University of North Carolina at Chapel Hill, Charlotte met Raymond Adams, then a young professor, at a Philological Club meeting. She and Raymond Adams were married in 1927. Raymond was a Henry David Thoreau scholar and went to Concord in 1934 to study Thoreau for a year. During that year, Charlotte tutored in German. In 1937, they went to England together, and Raymond called on Henry Salt, renowned Thoreau biographer. At the end of their stay in England, Salt gave Raymond Adams the bulk of his source material because of the younger scholar's interest in writing a biography on Thoreau. However, Raymond never wrote this biography. No publisher wanted to market another Thoreau biography since the "definitive" version had recently been written.
Raymond continued to teach at UNC until he retired in 1968. Meanwhile, from 1938 Charlotte was an active member of the Women's International League for Peace and Freedom (W.I.L.P.F.), an organization founded to promote suffrage rights for women, and evolving to promote the cause of peace worldwide. From 1967 to 1973, she attended a vigil every Wednesday afternoon protesting the Vietnam War. In 1970, she and some friends began monitoring the local courts to protect the rights of defendants. She continued to monitor the courts until 1978 when she helped to found the Dispute Settlement Center in Carrboro, N.C., at the time the only center of its kind between Washington, D.C. and Atlanta.
Today, she keeps up extensive flower gardens, a lifelong hobby, outside her white cinderblock house (built in 1940 by Raymond's specifications that it should be of a style befitting 19th century Concord, Thoreau's hometown). Charlotte remains politically active as a member of the W.I.L.P.F. She still serves twice a month as mediator at the Center. After a long bout with illness, Raymond passed away in 1987. In 1988, Charlotte went to China to study the arts of mediation, a trip sponsored by the New York Dispute Settlement Center.
She is photographed while gardening on a May morning in front of her home in Chapel Hill. (written in 1992)