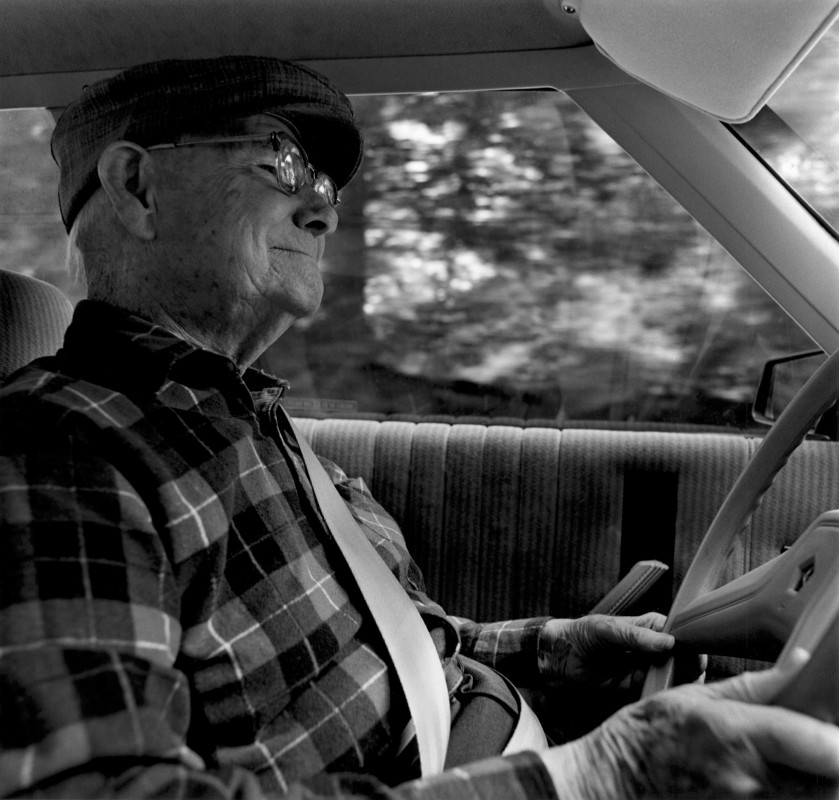 In 1990 and 1992 I made this series of portraits of individuals more than seventy years old and living independently in and around Durham, North Carolina. The attached texts were written by Nicholas Sholley from interviews he conducted with each person. My portraits were published in 1997 by W. W. Norton in Old and On Their Own with additional photographs by Thomas Roma of elderly in Brooklyn, New York, and text by Robert Coles.
---
Born in 1910, Claude Carmelia is grew up on the outskirts of Medford, New Jersey. His mother died when he was six. Claude stayed at home with his father, then a manufacturer for the Iowa Soap Company, until joining the army at twenty-four. During Claude's twenty year military career, he assisted doctors as a sergeant in the operating room, both in Europe and the Orient, principally Japan.
Claude married in 1948. After his honorable discharge from the army in 1955, Claude started working at the VA hospital in Durham. Ten years later, he retired and worked at the front desks of motels along Interstate 85 within walking distance of his home.
For nearly forty years, Claude has lived in a white one-story house on a tree-lined street, flanked with a series of houses built for army families in the mid to late 1940's. Claude and his wife, Ethel regularly ventured from home, spending part of their retirement travelling three to four months in their Winnebago. After Ethel's death in 1986, Claude sold the Winnebago and bought a new car. He continued to travel, taking his last major trip in 1988, a loop encircling the eastern half of the United States.
Claude presently drives for Meals on Wheels, a program delivering prepared meals to the sick and/or elderly. In addition to being a thirteen year veteran of this program and serving on its board, he is a mission representative on the Council of Ministries, a member of Durham Congregations in Action, and an administrative board member of his church, St. Paul's of Durham. His related volunteer activities include distributing taped sermons to parishioners who are too sick to attend the services, giving rides to those who cannot drive themselves, and delivering food to the Durham homeless shelter.
Claude was named Methodist parishioner of the year in 1989 and has recently passed the three hundred hour mark for volunteer service.
Claude is photographed as he drives through his Durham neighborhood. (written in 1992)